They are warm, tasty and beneficial. Especially when you have a cold, a steamed soup with lots of vegetables can do wonders. The first recipe in our cold soup series is a classic par excellence: good old chicken soup.
Chicken soup helps with colds and coughs. Slow and careful cooking in water removes the amino acid cysteine ​​from soup chicken. Cysteine ​​promotes detoxification of the body and has an anti-inflammatory effect. It also makes it easier to cough up thick mucus. The strengthening effect of our immune system is also explained by carnosine contained in chicken meat, and therefore in chicken soup.
Ingredients for 4 servings of chicken soup:
1 soup chicken (about 1.25 kg)
2 carrots
2 celery stalks or a quarter of a celery bulb
1 bulb
200 g of soup noodles or basmati rice
cilantro and parsley (if you don't like cilantro, leave it out)
Salt pepper
Chili flakes, some juniper berries, bay leaves, whole peppercorns
Cooking chicken soup
Place the drained and peeled soup chicken in a large pot along with the whole peeled onion and add enough water to slightly cover the chicken.
Add the bay leaf, juniper berries and chilli flakes and bring to the boil (tip: put the peppercorns, juniper berries and bay leaf in a tea infuser and drop into the chicken soup. The tea infuser can simply be removed later).
Remove the boiling foam from time to time.
Cut carrots and celery into medium-sized pieces.
Boil everything for at least half an hour. Then chicken and onions with South Remove and add chopped vegetables.
Meanwhile, boil the noodles or rice until done.
Meanwhile, debone the chicken and return it to the pot, shredding it slightly.
When the vegetables are cooked, add the finely chopped coriander and parsley, lightly stir the chicken soup and season again with salt and a little pepper savor.
Put some soup noodles or rice on the plates and pour the chicken soup.
Bon appetit!
Advice if you already have a cold: These tips will help with a sore throat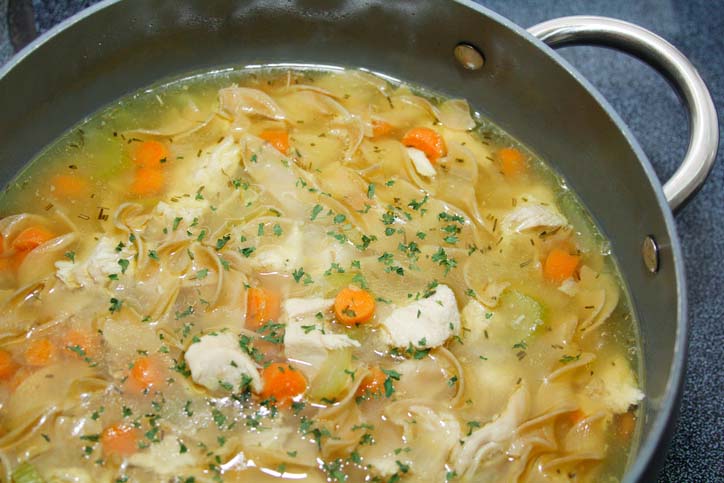 .