Although meteorologists announce a golden October, they will still be in this month, the first cold autumn evenings! How to create a truly cozy mood? Of course, with delicious, warming chicken soup! After all, what was good for my grandmother can't hurt even today. But: today most people, unfortunately, only know stew from a can. It is not difficult at all to prepare a real traditional chicken soup. We reveal how it works!
This chicken noodle soup recipe is easy to make
Anyone looking for a soup recipe will find countless options everywhere these days, but nothing beats a classic stew with chicken broth, delicious vegetables, and soft noodles. The ingredients for this are not difficult to find, they can be found in every supermarket. Admittedly, this stew takes a bit of work, but it's worth it, I promise! Here is a classic recipe for chicken noodle soup.
Read also: Spicy, hearty, delicious: this garlic soup is worth a try! With delicious bread, it is a perfect dinner… >>
You need: soup chicken (preferably from a meat counter or butcher), two large bunches of soup greens, two onions, a bay leaf and white peppercorns, 250 grams of tagliatelle, salt, pepper and paorica.
And here's how it works: Wash the soup chicken well and put it in a pot of water. The chicken must be closed! Bring to a boil and cook for two to three minutes. Then remove from the heat, take out the chicken, rinse again.
Read also: Creamy, spicy, extremely tasty! You will love this delicious pumpkin soup >>
Drain the water, rinse the pan. Add the chicken soup and cover with about three liters of water. Boil again. When the water boils, reduce the heat to a slow simmer. After 20 minutes, add two bay leaves and a few peppercorns and simmer under the lid for about an hour.
Chicken soup with noodles is richly seasoned with pepper and paprika
Meanwhile, prepare the vegetables: set aside the parsley from both bunches of greens. Peel one soup green and cut into coarse pieces, peel the other and cut into small pieces.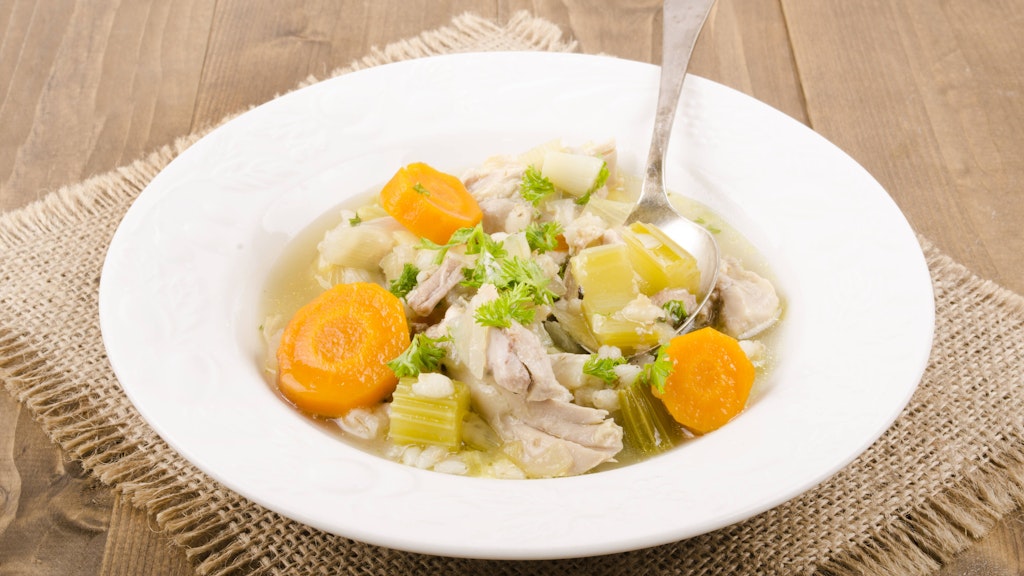 Wash and finely chop the parsley. When the chicken is cooked, add the vegetables and simmer for another hour and a half. Then remove the chicken and vegetables from the pot, pour the broth through a sieve into a second pot.
Clean the first pan, pour water into it and, when it boils, add the prepared vegetables and pasta. Cook until the noodles become soft – then the vegetables should also be al dente. Meanwhile, remove the meat from the soup chicken and chop it a little.
Read also: Hearty potato soup: with this recipe, you can gather the whole family at the table >>
Everything is combined in a pot with ready-made chicken broth: meat is added to the broth, then parsley. When the noodles become soft, drain the water, and add the noodles and vegetables to the broth as well. Mix everything well, boil again briefly and season with salt, pepper and paprika. It goes great with delicious crusty bread. Bon appetit!
Also read now: Delicious recipe: these GDR buns are heavenly! Thanks to these ingredients, they are guaranteed to taste like before >>
.